Throughout life, you should never stop improving yourself. Who do you learn from? Can you trust that random person who claims to be an expert?
With MasterClass, you won't have to. If you don't already know, MasterClass provides classes conducted by true masters of the form. Learn to sing from Christina Aguilera. Learn the art of performance from Usher and how to cook from Gordon Ramsay. Now THAT's the power of the Internet.
A world without borders.
We love how this service brands themselves. They're active on social media as well. They respond to relevant questions by users and they definitely have the star power to appeal to the consumers.
We are, however, slightly disappointed in the ads they have launched on Facebook. We think they can do much better. Star power is amazing.If you advertise it right, the possibilities are endless!
Let's take a look at their ad.
Look At MasterClass's Ad! 
There is such a thing as looking too good to be true!
Sometimes a product may seem unbelievable and it stops consumers from clicking or making a purchase.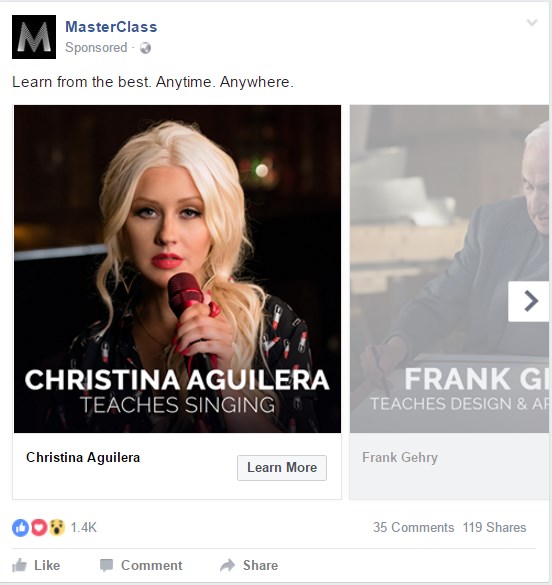 Message
"Learn from the best. Anytime. Anywhere."
This is a classic example of following the big boys. We've seen this kind of messages on billboards for Mercedes, The Economist and etc.
For brands that have built up their reputation and explained their services and products a million times, you can focus on these kinds of messaging. For a company that launched its Facebook page on May 12, 2015, we wouldn't recommend this route.
We got extremely confused by the message.
Physical classes? How many classes? Is this one of those generic classes you won't learn anything from?
Explain the services in a nutshell. Create additional value (other than the celebrities themselves).
Image
The pictures selected are consistent and uses the same palettes.
The faces are definitely identifiable.
Caption says so much without taking up too much space.
We're happy.
Link Headline
A repetition of the name is extremely wasteful, especially when dealing with dynamic product ads.
There's already not much space to communicate and persuade.
Hollywood Singer Gives 23 In-Depth Lessons!
That ought to grab their attention. It will explain what the service does as well!
Ad Variation 1
When we're talking about celebrities, there's always one upside: existing fans. We thought we could use this ad to target Xtina's existing fanbase.
Use more information about Xtina and market her to the people who want to sound like her.
Message
One thing most Christina's fans is to be trained by her, especially since she appeared on The Voice. We thought we can bring it up to make it seem special!
We took a look at the program and discovered that it was designed to help people find their own voice.
Telling the consumers they can sound like Christina is not what the program is about.
Get that sexy voice you always wanted! Let's admit it. Everybody's dreamt of being a singer. They want that voice that can make people melt. We reminded of that dream. It increases the appeal of the product.
Image
Celebrities can seem detached from reality. You feel far from them. So we decided to bridge the gap.
Meet your new teacher.
Yours. You can have it at the click of a button. We want consumers to imagine having Xtina as their music teacher. Let them dream a bit.
Link Headline
Xtina Anywhere You Want
Yeah, we know. It's a little cheeky isn't it?
Remember: The headline is always used to grab attention. If they don't notice it, they wouldn't bother to know your product, much less click.
Link Description
We talked earlier about explaining what MasterClass provides. Don't make it seem vague. 23 comprehensive classes.
There is no sense of urgency that can be created easily, though. No promotion. That shouldn't stop you. Stop delaying following your heart. You can do it! That's a good CTA as well.
Ad Variation 2 
Everybody wants to be a good singer. Everybody. There are a lot of barriers to work on your singing. Work, family, shyness.
We thought we'd use one of them here.Shyness is something can be overcome. The fear of singing in front of somebody else. The fear of being laughed at.
Message
We spoke to the consumer as a person who understands. You love music, but you're shy.
Don't worry, we understand. Do it in the comfort of your own room. Get better and don't let anybody stop you.
We know you want this. It's okay to want it.
Through doing this, we can allow the consumer to dream. It eliminates one of her pain points to learn singing.
Image
What about this image?
Work On Your Voice Secretly With Her
They know it's Christina Aguilera. We wrote it in the other segments. Why not here?
Sometimes subtlety is important.
Link Headline
Music Classes Without The Embarassment
Why did we do that? We can increase the appeal of the product by pointing out that barrier we mentioned earlier.
This product solves your problem. Now you have no more excuses.
Link Description
The headline reminded them of the barrier they have. We used the description to motivate them and push them to click one last time.
A full conversation through an ad. That's what a good Facebook ad can provide.
Ad Variation 3
Some people don't buy dreams. They want to be professionals. They just have a hard time looking for the right teacher.
What we're selling isn't just a class. It's a detailed lesson by a MASTER! Christina Aguilera is famed for her vocal control.
We're selling an opportunity. This ad is designed to empower the consumer's ambitions to be a professional singer.
Message
Control. Singing exercises. Work. Comprehensive. 23 Lessons. How? Online. The Internet.
We show them that these lessons have body. Structure. This increases the credibility of the lessons themselves.
There are a lot of classes floating around the internet. Most of them doesn't explain things people don't already know. We used this ad to increase the credibility of the product.
Image
After all that work, we have to reward the consumer right? What's the end goal here? TO BE A STAR!
Hold a mic. Stand in front of a crowd. Get recognised.
Link Headline
Lifetime Access To Christina Aguilera
It's not something you can only access once. You can keep the lessons and rewatch them whenever you need.
Link Description
After we dangle the dream in front of them, we tell you it needs work. Action.
We're giving you the chance. All you need to do is act now. Do it before you change your mind.
Ad Variation 4
There are many motivations to purchase a product. This time we're using pride to sell.
Think about the bragging rights you'll have when you tell people your music teacher is Christina Aguilera.
Message
Before we even talk about singing, we dangle the opportunity to be with Christina.
Then we tell them they can have her teach them to sing. Building up an idea makes it seem more appealing.
We also made them think about how they can show their talent to the world one day!
Show a result and motivate the consumers to want your product.
Image
Who's Your Music Teacher?
That allows them to imagine themselves after signing up!
Link Headline
Hang Out With Christina Aguilera
You can be with her. Learn from her. Be closer to her.
Link Description
Finally, we show them that this is convenient. Minimal commitment. Make it easier for them to sign up.
Anywhere and anytime. You can choose. How? Just click and you'll find out!
Ad Variation 5
Now, it's unfair to compare a carousel ad to a website click ad. So we should finish the article with a carousel ad as well to show we can optimise that too!
Message
What does MasterClass sell? Opportunity. Dreams.
Explain the product. People already know the celebrities.
Show the effect. Transform who you are with MasterClass.
Since there is no description, we placed a CTA here to push people to click.
Image
We made each artist stand out in their picture without contrasting from MasterClass's branding.
(Name) Teaches.
This communicates what's important. Putting their name with teaches. It won't be somebody else teaching how to be like Usher.
Link Headline
If you ignore the ad, you can still understand the concept. This is what they teach. It's not singing. It's vocal classes. It's performance art. How to act professionally.
Conclusion
MasterClass is going to revolutionise the world!
We truly believe it. We're big fans already. There are a lot more things they can do to optimise the ad. If you would like to know, make sure you send us an email and we can chat about how to take MasterClass or your brand to the top of Facebook!
You should definitely check them out on their website and Facebook.
Did you like the article?
If you did, let us know. Follow Cause Effect on Facebook. We'd love to hear your opinions and thoughts.
We really hope we don't offend anybody with this article. We just want to keep improving how we approach digital marketing and help others do the same.
It's our ultimate goal to improve the market for digital marketing, performance marketing and e-businesses in Malaysia.
Cheers~
[vc_btn title="Let's Have A Chat" style="flat" color="inverse" align="center" el_class="popmake-2115″ custom_onclick="true"]