Selling gadgets, gaming gears and accessories on Facebook makes a lot of sense.
The customers are right there. They're feeling the problems and getting annoyed as they surf and play.
All you need to know is how to tap into that interest.
Persuasion. Context. Relate to the customers. We know we say this a lot, but that's because it's the basic thing most digital marketers forget.
Pages like Game Hypermart is gold on Facebook. They produce entertainment content about games, gadget reviews and even animation.
As long as they use the entertainment content to get more followers and maximise engagement, sales posts and ads like this can be a lot more effective when done right.
The marketing and social media team need to adapt everything they know about games, gadgets and animations to advertise their products. We're geeks too. Cause Effect understands.
There's a big potential here.
So we found an ad by Game Hypermart and we thought we'd share some input to help them and the rest of you improve your game through Facebook Ads.
Let's get it on!
Let's Look At The Main Ad!
This is a good example of how businesses usually sell hardware. Pack the ads with specs and information.
Message
Superfast and supersmooth. 2ms response time. How many users understand what this means?
"Kill three enemies in half the time without cursing". That makes more sense to gamers.
Image
Place the model number as large as you can. Why?
Is that what people need to see to be interested to purchase the product?
Information needs to be prioritised better.
Link Headline
Dell Monitor Is Back.
Almost every gadget site you can think of sells Dell monitors. This won't grab anybody's attention.
There needs to be something special about the product or site here.
Link Description
This contained the most persuasive information in the whole ad, though it could be improved a lot more. An urgency is needed to increase the appeal to click and buy now.
Ad Variation 1
Ads must be simple enough to understand by the target market. This is exactly what we tried to do with the ad.
Message
That frustrating lag DESTROYS your game. Game lovers hate things that bother their game.
Through this message, we stroked their ego to show them that they can get better with better gear!
We focused on shooting game analogies to increase associations between gaming and the product.
Image
You Hate Lag. Destroy It Now!
Add a killshot to that and show what they can achieve with a setup that eliminates lag.
Link Headline
Headline Precision With Dell
Let's talk about how this is better than Dell Monitor Is Back.
Headline Precision attracts gamers. Dell adds credibility. It's all in the context.
Link  Description
Replace that old monitor right away. People usually start searching for a new monitor when their old ones are faulty. Remind them of the inferior monitor they're currently using.
Ad Variation 2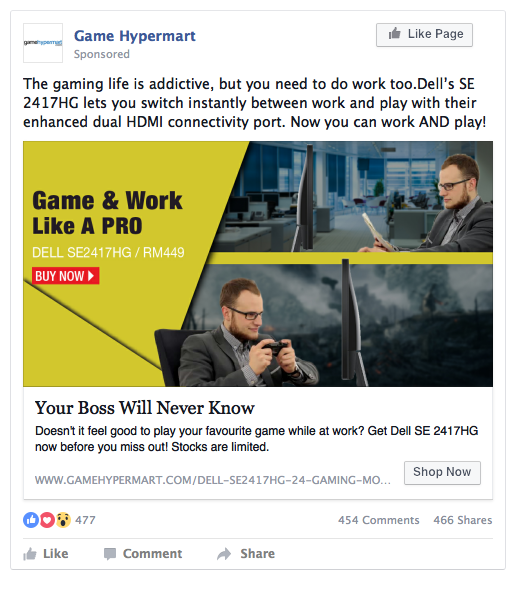 Message
This message attempts to relate to gamers. We understand that working and gaming is hard to balance. We used one of the key features of the monitor to solve this pain point!
You can WORK and PLAY at the same time!
Now there's a message that's easy to understand.
Image
"Game & Work Like A Pro"
You'd be surprised to know the average gamer is 35 years old, and 73 percent are age 18 or older. This means a large portion of the target are working adults and university students. Work is important to them.
Link Headline
Your Boss Will Never Know
We thought we'd try to be cheeky. We know you can't bring your own monitor to work. (can you?)
Associating the product with some fun is very useful. It increases attachment to the idea, product and brand.
Link Description
Doesn't it feel good to pay your favourite game at work? Get it quick. It'll run out soon. That's the idea. You need to build urgency to push the consumers to click on the ad.
Ad Variation 3
Let's not forget gamers aren't the only ones looking for a high-end monitor.
Movie lovers are obsessed with high definition graphics.
Message
Take full advantage of the many HD movies you have in your computer. What's the point of all that downloading if you can't see it in the best graphics?
HD SD are terms streamers are very familiar with. High Definition (HD) and Standard Definition (SD).
Image
The Visuals Will BLOW YOUR MIND
Now that's how you want to react when you watch a movie with good graphics!
Anybody can get the image instantly. Clear message delivered.
Link Headline
A Cinema In Your Room
We appealed to the desire to make their movie watching experience an exclusive one. It will cause consumers to reconsider their existing equipment.
Link Description
Get it now while stocks are still available!
That's how you get people to click on the ad. Once they like the ad, show them that this offer is not on offer forever!
Ad Variation 4
You'll be surprised just how good gamers can be in multitasking. Listening to music while they game.
Watching movies in between rounds. Skype-ing their best friends to discuss the last match. This makes the switch function especially important.
Message
We first worked on acknowledging this trait we noticed. We framed it in the form of a compliment.
Why is this important? It makes the consumers comfortable. The ad doesn't seem detached from their lives. The brand and the ad seems to be speaking to them.
If you speak to a person and call them the wrong name, how will they react?
Exactly. Finally, we told them how to make this skill even better through the product!
Image
Play, Talk & Work With A SWITCH! What does that switch mean? We even laid out how it will feel like through the visuals.
Do everything at the same time! That helps make this simple feature into a high-value point for the consumer.
Link Headline
Do Everything With This Monitor
We wanted to frame this product as something more than just a monitor.
That's what the features are for. To expand what a monitor is supposed to be.
Marketers need to try and use that to their benefit!
Link Description
Better act now while we still have it. This implies that it's in demand. Stocks are limited. Don't hesitate too much.
It might be too late. We can't insist on the importance of creating urgency enough.
Conclusion
Game Hypermart has an upper hand in marketing on social media. Why is that?
They have the opportunity to share and create entertaining content to stimulate traffic and interest to their page.
Poorly created ads will make it harder to monetize from this goldmine.
It will also reduce the credibility of the page itself. Make the most of your social media account. The potential is unlimited.
Cause Effect thinks Game Hypermart has the potential to go a lot further. We'd love to have a chat with them to discuss exactly how they can get improve their sales and traffic online!
What did you think about the article? Share your reviews and comments on our Facebook page. Make sure you read our other articles on the blog too!
If you are interested in talking, don't hesitate to send us an email. All you need to is click the button below. We'll get back to you soon.
Hope you enjoyed the article!
Cheers~
[vc_btn title="Let's Have A Chat" style="flat" color="inverse" align="center" el_class="popmake-2115″ custom_onclick="true"]