Is Facebook just for startups and SMEs?
Cause Effect doesn't think so.
Big companies can gain so much from being active on Facebook. Just take a look at AirAsia, McDonald's and Walmart.
But… they're not banks?
Banks are very active on Facebook too. Here's a short list.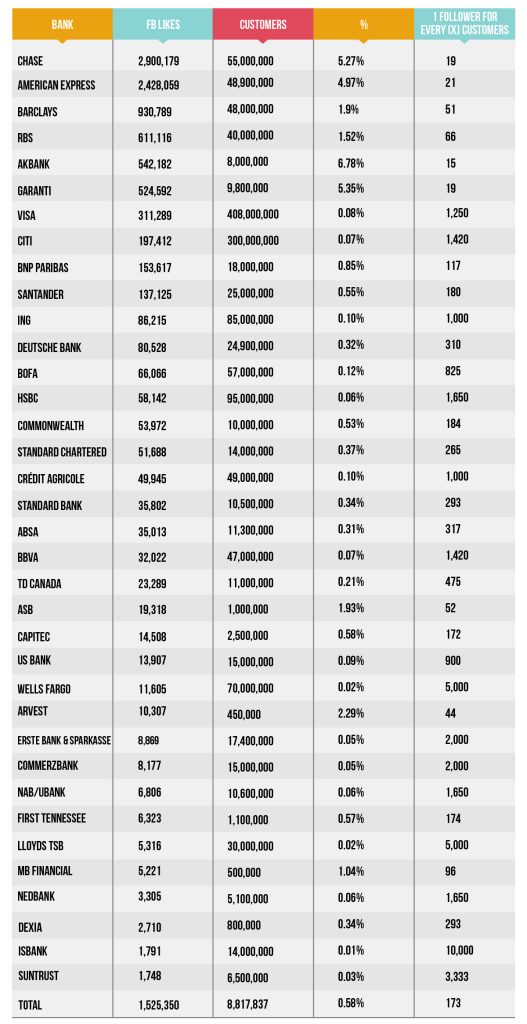 Yes, content about finance is not so popular. Banks can increase attendance to their events, maximise impact and reach of CSR (Corporate Social Responsibility) campaigns and humanise the brand through Facebook.
The biggest value lies in lead generation. How much money is spent on events, ads, cold calls and etc?
You can create lead generation campaigns on Facebook with an insane reduction on expenses.
You can also use Facebook to increase the impact and attendees of these events. You can also import existing leads and acquire other users with the same characteristics and interests.
All at the click of a button. That's easy as pie on Facebook.
Everybody in Malaysia knows who Standard Chartered is. Just in case, we'll give you a brief introduction.
Standard Chartered PLC is a British multinational banking and financial services company headquartered in London. It operates a network of more than 1,200 branches and outlets (including subsidiaries, associates and joint ventures) across more than 70 countries and employs around 87,000 people. It is a universal bank with operations in consumer, corporate and institutional banking, and treasury services.
Let's get back to the main point. We found an ad Standard Chartered released, and we thought we could give it the old fixer upper to show Standard Chartered and the rest of you how to get the best impact from your Facebook ads.
Let's get started.
What's Wrong With The Ad? 
We have one word we can use to describe this ad. BORING. We'll explain below.
We're disappointed. There is no attempt to create value for consumers at all.
Message
What does getting up to $138 cashback even mean? How many members from the general public can understand this statement?
We think the message can contain more information to persuade and attract consumers.
Image
One thing about credit cards is that the design of the card rarely makes a difference to the people considering to get it.
We understand that people have to attach the benefits to a clear product and the card being in the ad is important.
The ad is also visually appealing.
However, we think that an ad should be optimised to promote action. The design and copywriting should be optimised to achieve that.
Link Headline
The name of the card. While it is important, it is a bad way to use the headline. You are introducing the card to potential new customers. Grab their attention with the headline!
Link Description
There's an obvious duplication of information here that is unnecessary. There is also no urgency created to persuade people to learn more.
We think we can make the product seem more valuable to different consumers by upgrading the ads. Let's go deeper.
Ad Variation 1
When you can target niche groups, it is possible to target shopaholics. Through this ad, we make an attempt to show how the Unlimited Cashback Card can create value to the customers.
Message
The first statement tries to relate to the person reading the ad itself. The key words here are bargain, gives back and every time.
The goal is to catch their interest and make the card easy for the customers to understand.
Image
The image shows a smiling woman with a lot of shopping bags and SOME GIFTS. We did say you're going to get something back.
The caption says "Pay Less For Everything" clearly communicates what is offered in the simplest way.
Link Description
This is where we can insert additional details to explain the product more clearly. You have their attention now. The call to action creates an urgency which would increase the impulse to click.
Ad Variation 2
Credit card is founded on the basis of convenience. It gives you access to credit to ease transactions and planning.
Convenience to purchase can also be communicated as easy. It can also be communicated as fun.
Message
Buy. Anything. Get. Money. Back. You Need. You're in for a treat!
We positioned the product as a method of acquiring happiness through this ad. This card provides convenience AND cashback!
Image
More Money. More Fun.
This shows the consumers the best value you can get from any card, which is access and opportunity!
This ad can be used to target first-time credit card users. Show them the basic benefit of a credit card and make it stronger with unlimited cashback.
Link Headline
Maximise Your Credit Card Benefits!
This brands the product as superior to others. It attracts consumers to read further to find out more information.
Link Description
Take advantage. Earn. The description is used to make the consumer feel they're in control.
You better click fast encourages impulse clicks.
Ad Variation 3
When we did a little digging, we found that there were other benefits for the card. We decided to make full use of these benefits to reach the people on social media.
Message
Why not start the ad with a call out to doughnut lovers? Get a FREE doughnut!
We know we know. Obviously, doughnuts are not important when you're applying for a credit card.
It is a great way to attract attention, though!
The name Unlimited Cashback is already designed to communicate the key feature of the credit card.
Why not focus on the doughnut instead?
Image
We wanted to keep the ad light, so we used a cute picture of a girl having fun eating a doughnut.
The word cashback is highlighted to make the audience question what cashback actually means.
They'll have all the access to that information when they click on the ad.
Link Headline
Get More Krispy Kremes
If you were scrolling down your page, a note about Krispy Kreme is definitely going to catch your eye.
Link Description
We also inserted the call to action first in the description. You will never fit all of the details you need in an ad.
Why not use it to grab attention and let the consumers decide when they read the details on the landing page?
Ad Variation 4
If you've been to Singapore before, you know how important cabs, Uber and Grab are to consumers. We wanted to do two things with this ad.
The first was to leverage on that benefit. The next was to use the Standard Chartered brand and the Uber brand to lend credibility to the product.
Message
In the message, we focused on the main product and benefit first. It is called cashback, after all. We also used the message segment to build up hype.
Image
Ride Everywhere With Uber.
It's Singapore. Uber deals and promotions are valuable to consumers. We branded the card as the method to get the promotion.
Link Headline
SGD 300 Off Uber Rides is a very attractive promotion. It seems like it is just one of the benefits of using the card.
Link Description
Always create a sense of urgency in your Facebook ads. There are many instances where people will like the ad but leave without clicking a single thing. A reminder can go a long way.
Conclusion
Great products deserve great marketing. Including added value in your marketing efforts while keeping your ads interesting is a good way to ensure a healthier ROI through your marketing efforts.
We hope the people at Standard Chartered won't take this article the wrong way. This is merely a proposal coupled with some tips to help others improve their digital marketing tactics and strategies.
We're just trying to increase the standard for digital marketing in Malaysia.
Read our articles to find out how to begin and optimise your journey in digital marketing. Follow us on Facebook as well!
If you're looking to get in touch, just click on the button below!
We hope we can have a sit down with Standard Chartered to discuss the future of their digital marketing!
Hope you enjoyed the article! Here's a video ad for the Unlimited Cashback Card we've been writing about. It's pretty cool!
[vc_empty_space][vc_btn title="Let's Chat! " style="flat" color="inverse" align="center" el_class="popmake-2115″ custom_onclick="true"]